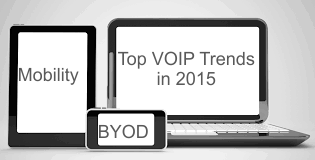 The small business voice over IP (VoIP) trend-o-meter for 2015 is weighted heavily towards the cloud and mobility markets as more companies try and seek cost-effective and economical Telecom infrastructure to support the changing landscape of their workplace. Below are a few Business VoIP trends you need to to watch in 2015.
Mobile Devices will become Primary VoIP Handsets
Rapidly traditional business desk phones are going to be eliminated and sold off as surplus equipment in 2015. Company-owned personal enabled or Bring Your Own Device (BYOD) mobile devices are going to take over and replace a business user's primary telephone handset. This changing landscape of today's mobile workforce, and the increasing numbers of remote workers, is growing at leaps and bounds and this trend will continue well beyond next year.
A Further Convergence of VoIP and Unified Communication
Throughout 2015 we are going to see a further convergence of business VoIP and UC solutions, because this convergence has already begun and even now it is starting to accommodate today's changing needs for mobile-first, Bring your own device, and geographically dispersed employees, locations and teams that need to communication and collaboration freely.
Hosted PBX and the Cloud
Hosted or Cloud Based PBX systems are growing at a rapid rate with over 30% of businesses looking to make a change to this new modern day technology, the popularity of a hosted PBX product of businesses moving to a cloud-based solution frees businesses from many of the maintenance and repair costs that in office, on-premises telephone systems are known to have. It's a cost effective economical move in today's marketplace.
Added Features
Hosted PBXs also bring with them a lot of features that business users can enjoy to be more productive, these features a cloud VoIP provider can turn on for their customers with extremely flexible pricing models customized to a business's specific needs. The economics and features sets of a hosted PBX will remain a dominant VoIP trend throughout 2015 and beyond.
Greater Integration with Cloud Platforms and Productivity Applications Customer relationship management (CRM) is an exciting trend of VoIP integration because just like other cloud platforms like CRM, office productivity, and other back-office business applications. A small to medium-sized business or any company wanting to test VoIP or unified communications (UC) technologies may also get its first exposure through Microsoft Office 365 or Google Apps for Work. These cloud platforms may serve as an introduction to VoIP and UC think Microsoft Lync and Google Hangouts as gateways to full-scale VoIP solutions.
Lots more Back-End Analytics
Another of the 2015 VoIP trends is more back-end analytics. VoIP solutions that move to the cloud make it possible for the ability to support a range of back-end performance management analytic. Back-end analytics that can give a customer another tool to compete better in their marketplace because they have optimal control over VoIP communications, instant customer metrics and connectivity to their prospects via all aspects of communications, Phone, Email, Chat and Video.
At Randercom, we work with a host of top end providers in the VOIP industry and can assist your company in making the move to VOIP for your business click here are call us at (920) 731- 3944 to see what we can do for you.