Where  do you want your camera located?
What functionality and features do you want?
How much are you able to spend?
We will meet with you to evaluate your needs and find a cost-effective system that fits your business.
RanderCom can sell and install any type of surveillance/camera system, but have done most of our work with Axis Communications, IC Realtime, Ubiquiti, and UNV.  We can upgrade an existing analog system with cameras that offer better resolution.  We can also set up an IP camera system that offers longer range and greater versatility.  Whatever your needs or goals are, RanderCom's staff will work with you to implement the best solution.
Examples of Popular Cameras: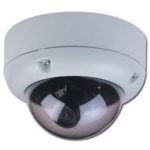 Dome Camera
Dome cameras are a popular option because they have a professional look and are very resistant to vandalism.  They are a deterrent in all directions because it is not clear which way the camera is pointing.  Dome cameras usually have high resolution and the ability to record in low light.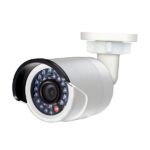 Bullet Camera
Bullet cameras usually have a longer, more focused range.  They are often used for outdoor areas and are easy to install. Bullet cameras are less likely to reflect light or have whiteout images.