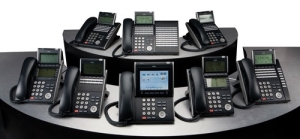 Respond Quickly & Easily to
Clients, Co-workers and Suppliers
The old adage is still true, "Time IS Money." Faster decisions mean quicker project turn-around and better profitability. Arm your employees with a communication system that gives them easy access to the resources they need to make effective decisions no matter where they are.
RanderCom's integrated, hosted, VoIP and unified communication solutions are rich with features, simple to use and intuitive. Learn more about our small and mid-size business phone systems below.
Keep Connected Wherever You Are
No "cookie-cutter" solutions here! You and your organization deserve more! Whether you are looking for a digital, unified communication, VoIP or hosted business phone system, RanderCom will design an affordable solution. RanderCom customizes each business phone system recommendation to meet the specific needs and priorities of the organization so you pay for only what you need.
Small and mid-size businesses are leveraging their new phone system technology to increase office productivity or improve customer responsiveness. Our solutions empower employees with easy access to the information and resources to help customers quickly. We help you stay connected so your can be more responsive to customer needs which distinguishes you from the "big guys."
Let us help you evaluate your options. The best solution for your business may not be the one with the most features, but the system with features that make your employees most efficient. Our friendly staff will walk you through the assessment process to ensure the system design, installation, implementation and training meet your requirements.
Not certain where to start? Get your FREE guide 3 Steps to Making Cost Effective Communication Decisions.
Communications Products
For the most affordable small and mid-size business phones system and/or service call RanderCom at . We provide exceptional solutions to businesses throughout northeast Wisconsin and Upper Michigan including Appleton, Kimberly, Kaukauna, Neenah, Menasha, Chilton, Brillion, Wrightstown, De Pere, Green Bay, Door County, Marinette, Waupaca, New London, Oshkosh, Omro, Berlin, Ripon, and Fond du Lac.